I Can Build My Own Gun With This?!?
There are lots of reasons you'd like to have a Spectre Polymer80:
You might like the fact that this is a gun you can build yourself, exactly like you want it, and not have to spend money on factory parts you didn't want in the first place.
Perhaps it's the fact that you can build a completely legal handgun without any "governmental oversight," aka interference.
Maybe you want the reliability of Glock internals with the handgrip angle of the venerable 1911.
Whatever the reason, whether it's one of the above or something entirely different, there's no doubt that the Spectre
Polymer
80 is one of the most talked about firearm products ever!
The Spectre Polymer80 is specifically designed to straddle the line between an ATF firearm classification and a DIY project that's easily accomplished by anyone even moderately handy.
As to the first, The ATF has affirmed that the Spectre Polymer80 is NOT classified as a firearm as defined under the Gun Control Act of 1968:
As Far As DIY Aspect Goes…
Lenny Magill is here to show you that with a little time, attention to detail, some tools and a few parts, you can transform this "not a firearm" into a fully functioning 9mm handgun.
Now a lot of you might be thinking, "Ok, so it can be done… but is it legal?"
The short answer is: "Heck yeah!"
The long answer is:
So now that's out of the way, and you're thinking "This might be the time to invest in a little DIY time, but where am I going to get all the parts to finish the job?"
Upper Parts Kit: BUY HERE
Lower Parts Kit: BUY HERE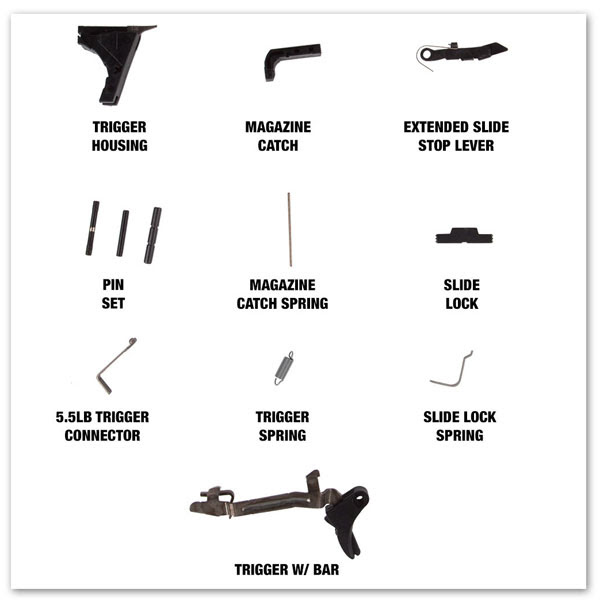 What Else Do I Need?
Now just add a slide, a barrel, and a magazine or two and you're done. Or you can skip the Upper Parts Kit entirely and buy our Glock 17 Gen3 Complete Upper .
Whichever way you go, once you're done, you've got a one-of-a-kind handmade pistol! You've also got that sense of pride that comes with being able to say, "Yeah, I made that."
No fuss, no muss, no registration, no records… what's not to like?